Date: July 23, 2021 | ZOOM
Background
Accreditation is a process by which an educational institution or program to participate in a review process by an external body to determine whether it meets accepted standards of quality. Accreditation of veterinary schools is an integral part of quality assurance procedures for veterinary education. Currently, there is no regional accreditation system in Asia, despite continuous discussions, several initiatives, and interests by many institutions in the region.
Objectives
Information sharing among AAVS Members: AAVS Members who have been accredited by existing systems outside the region to share the process, benefits and challenges of getting/maintaining international accreditations
Discuss whether these international accreditation systems are suitable/relevant for Asia setting
Suggest the way forward for the establishment of regional accreditation system (or not)
Discuss how AAVS may contribute to this process
Participants
Deans and faculty members of AAVS Member institutions and invited partners.
Program and presentations

Program

Speaker

1
Opening remarks
Dr. Masatoshi Hori, AAVS President
2
Experience sharing by AAVS Members: Short presentations on process, benefits, challenges of obtaining and maintaining international accreditation

PDF (Q&A)
College of Veterinary Medicine, Seoul National University (accredited by AVMA)
Dr. Lee In-hyung, Associate Dean of Academic Affairs
PDF
Video
Joint Faculty of Veterinary Medicine, Yamaguchi University (accredited by EAEVE)
Dr. Koichi Sato, Dean
PDF
Video
Faculty of Veterinary Medicine, Hokkaido University (accredited by EAEVE)
Dr. Motohiro Horiuchi, Former Dean
PDF
Video
Jockey Club College of Veterinary Medicine and Life Sciences, City University of Hong Kong (Provisionally accredited by AVBC)
Dr. Nikolaus Osterrieder, Dean
PDF
Video
3
Panel discussion on accreditation of veterinary schools in Asia
4 speakers, moderated by AAVS President
PDF (Summary)
4
Plenary discussion on AAVS role and contribution
All, moderated by AAVS President
PDF (Summary)
5
AAVS updates
Dr. Takeshi Haga, AAVS Secretary General
PDF
6
Closing remarks
Dr. Abdul Rahman Omar, AAVS Vice President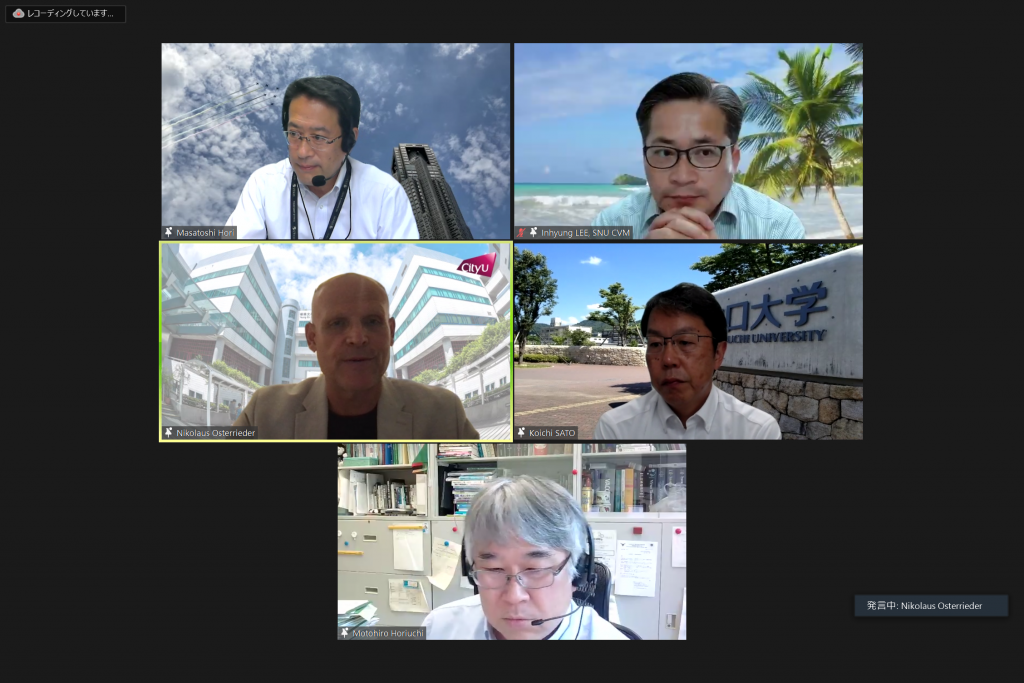 Photo: Panel discussion with Drs. In-hyung Lee, Nikolaus Osterrieder, Koichi Sato, Motohiro Horiuchi, chaired by Dr. Masatoshi Hori, AAVS President.